Skip to Main Content
It looks like you're using Internet Explorer 11 or older. This website works best with modern browsers such as the latest versions of Chrome, Firefox, Safari, and Edge. If you continue with this browser, you may see unexpected results.
×
Due to COVID-19, visitors hoping to use the Law Library must have an appointment.
When studying in groups, wearing a mask is the number one way to prevent and reduce infection.
More Ways to Contact Us
TXT us at 919-648-0247
Email a member of the reference staff at referencelaw@nccu.edu.
Students submit help requests here.
Faculty and staff submit help requests here.
Supreme Court Opinions (Cases)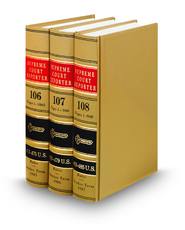 Opinions of the Supreme Court are published in "reporters." Reporters print cases in chronoligical order as they are decided. There are three major print sources containing opinions from the United States Supreme Court:
1. Supreme Court Reports - this is considered the official reporter, and is published by the United States Government Printing Office.
2. West's Supreme Court Reporter - published by Westlaw, this reporter contains headnotes, links to secondary sources, and other editorial enhancements.
3. United States Supreme Court Reports, Lawyers Edition - published by Lexis, this reporter contains links to secondary sources and other editorial enhancements.
John D. Fassett Collection
The John D. Fassett Collection was established in 2012 by former United States Supreme Court Clerk John D. (Jack) Fassett. Mr. Fassett graduated from Yale Law School at the top of his class in 1953. Chosen by Supreme Court Justice Stanley Reed to serve as one of his two clerks, he was deeply involved in the workings of the Court during the 1953-1954 term when the groundbreaking school desegregation decisions were handed down. The John D. Fassett Collection is a comprehensive collection of writings by and about Supreme Court Justices and the workings of the court. It has over 950 volumes that range in publication date from 1852 to the present. Mr. Fassett, as a result of his experience at the court, started collecting the volumes in the 1950's and continued to collect, both new and used volumes, through 2011, when he donated the collection to NCCU School of Law. In addition to the collection, Mr. Fassett also donated memorabilia from his term on the court and items related to Brown v. Board of Education. Some of this memorabilia along with a video presentation about the collection are on display in the breezeway on the first floor of the law school.
The Fassett Collection is located in the north-east corner on the first floor of the library.
Floyd B. McKissick Collection
The McKissick Collection was established in honor of alumnus and civil rights leader, Floyd B. McKissick, Sr. Although Mr. McKissick, with the backing of Thurgood Marshall and the NAACP, filed a suit to gain admittance to UNC's law school, Mr. McKissick enrolled in North Carolina College's law school (now North Carolina Central University School of Law) while waiting for his suit to move through the courts. During Mr. McKissick's final year of law school at NCC, he was finally admitted to UNC-Chapel Hill; however he had technically completed his law degree at NCC. He was awarded a law degree from UNC's law school in 1951 and was the first African-American to receive a Doctor of Laws degree from UNC School of Law. After completing law school, Mr. McKissick advocated for civil rights locally and nationally through his law practice. He later worked as the National Director of the Congress of Racial Equality and was the founder of Soul City, NC, a planned community where Mr. McKissick envisioned all could live in harmony. The titles in this collection have a topical orientation toward civil rights issues. Specific areas of focus include: desegregation in higher education; housing discrimination; and discrimination based upon race.
The McKissick Collection is located on the second floor of the library.