Selected General Bar Prep Guides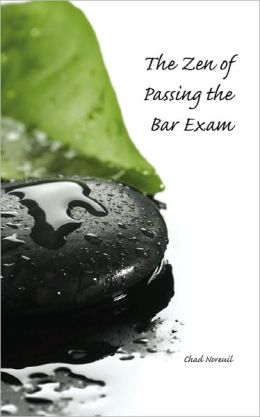 The Zen of Passing the Bar Exam
Call Number: KF303 .N673 2011
ISBN: 9781594609343
Publication Date: 2010-12-01
Preparation for the Bar Exam. Chapters include: Preparing for the journey -- Knowing your true self -- Your presence is requested -- Noreuil's top ten tips for essay writing -- Studying for the multi state bar exam -- Noreuil's top ten tips for the MBE -- Handling negativity and bumps along the path -- Knowing your universe -- After the exam.~~~
MBE: Beginning Your Campaign the Pass the Bar
Call Number: KF303 .E45 2011
ISBN: 9780735509962
MBE: Beginning Your Campaign To Pass The Bar Exam explains how to think about organizing, learning and applying the vast amount of material bar exam
Acing the bar exam : a checklist approach to taking the bar exam
Call Number: KF303 .D369 2008
ISBN: 9780314177063
Tips on bar study habits, selecting a comprehensive review course, effective use of time, and advice for those who are taking the bar exam a second time.
General Admission and Exam Information
Most states require bar exam applicants to complete a lengthy application along with a series of exams which typically include the Multistate Professional Responsibility Exam (MPRE), the multiple-choice Multistate Bar Exam (MBE), and a series of essay questions. Some jurisdictions may also test practical skills. The resources below link to basic information about application procedures to the North Carolina Bar, along with links to information about the various parts of the exam and general bar exam admission requirements for most U.S. jurisdictions.
National Conference of Bar Examiners
Includes statistics on bar passage, some free and for-purchase practice questions, and information about the Multistate Bar Exam (MBE), Multistate Professional Responsibility Exam (MPRE), Multistate Essay Exam (MEE), Multistate Performance Test (MPT), and the Uniform Bar Exam (UBE).
Bar Exam Brief


Links to news and information about the bar exam from across the country.
This guide was created by Dave Hansen and is updated by the NCCU Law Library Reference Department.
TXT us at 919.648.0247
Email us at referencelaw@nccu.edu
Call us at 919.530.6715